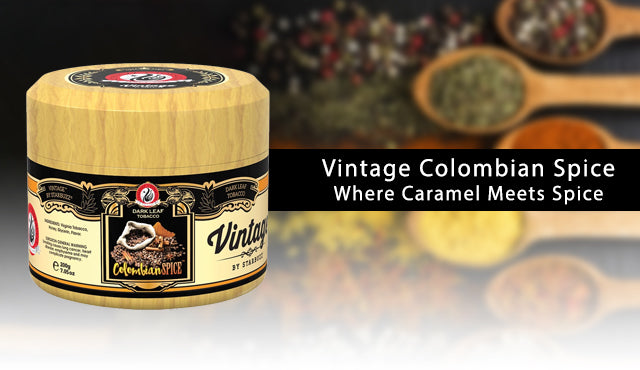 Starbuzz Vintage Colombian Spice Hookah Tobacco: Where Caramel Meets Spice
At Starbuzz, we try to offer you a wide range of flavors and blend through our four tobacco lines. Our Starbuzz Vintage line is a collection of rich classic flavors but with a modern touch. Vintage tobacco is made from dark tobacco leaves which are best known for its robustness. Today, we are going to focus on a specific Starbuzz shisha; Colombian Spice. In this blog, we are going to explore this tobacco, so you know what to expect from it.
Colombian Spice: Taste        
If you like coffee flavors like Starbuzz Vintage Tiramisu, then you may like Colombian Spice as well. While Tiramisu is all about rich chocolate with some delicious coffee notes, Colombian Spice is like spice with caramel and a bit of coffee. In this flavor, the taste of caramel comes out deliciously well. On the inhale, you get the zesty spice notes. But on the exhale, there is a beautiful mixed flavor of coffee and caramel. The amazing caramel-spice combination will make you come back for more and more.
Colombian Spice: Longevity
How long your bowl of tobacco will last depends on the packing method and the kind of coal you are using to heat the hookah. A bowl packed dense can go longer than a fluffy one. Moreover, if you want clean and long smoke session then always go for natural coals made from coconut shells.
Colombian Spice: Robustness
Dark tobacco leaves receive more sunshine as compared to the others which makes them stronger. Tobaccos prepared with such dark leaves give a good buzz.
Colombian Spice: Smoke Output
With Starbuzz, you will always be blowing thick clouds of smoke. However, it is much more reliant on your hookah bowl packing style. Denser you pack your bowl, thicker the clouds will be.
Starbuzz Vintage Colombian Spice Hookah Tobacco is here to show you that even the caramel can be spicy and yet taste delicious. If you haven't tried it, then hurry up. Order Starbuzz Vintage Colombian Spice Hookah Tobacco today!