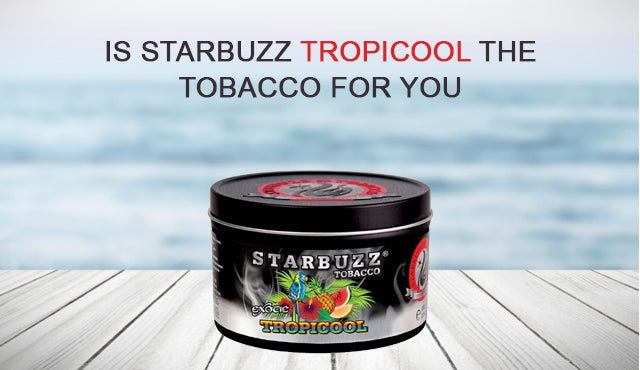 Is Starbuzz Tropicool THE Tobacco for You
Starbuzz Tobacco wishes you a very happy and flavorsome New Year. We, at Starbuzz, always endeavor to offer you an exceptional smoking experience every time. Our entire range of tobacco flavors is committed to bringing you the tantalizing flavors from different corners of the world. Starbuzz Exotic Hookah Tobacco line is all about enjoying those exotic flavors along with a slight buzz while blowing some thick smoke clouds.
There are many striking tobacco blends in this series that took no time to get famous. Among those, is Starbuzz Tropicool Exotic Hookah Tobacco; a unique, and delicious Starbuzz blend that has wooed many Starbuzz lovers. Today, we are going to assess the shisha for you.
Flavors.

From the smell, it may feel overly sweet but you did be surprised how tasty it gets when smoking. Starbuzz Tropicool is not like a mixed-fruit punch with several fruity flavors mixed in. It features many fruits but the flavors are well-balanced. One can easily pick up the traces of banana, guava and even a bit of papaya in it. The tobacco comes with a certain menthol-like cooling effect which makes the Shisha very enjoyable.

Buzz.

The tobacco is made using Golden leaves which gives out a little but enjoyable buzz. It is more of a homogeneous mix with slight robustness.

Longevity and Smoke Output.

You can go on smoking with the flavors not fading away. The smoke output and length depend much on the packing style and coal used. If you lit you hookah with some coconut shell coals, your session will be better and last longer. While the flavors may get to the medium side but the clouds will remain dense even after an hour.
Overall, if you want something tropical with subtle flavors, medium buzz with menthol coolness then go for Starbuzz Tropicool Exotic Hookah Tobacco. You will like it for sure!