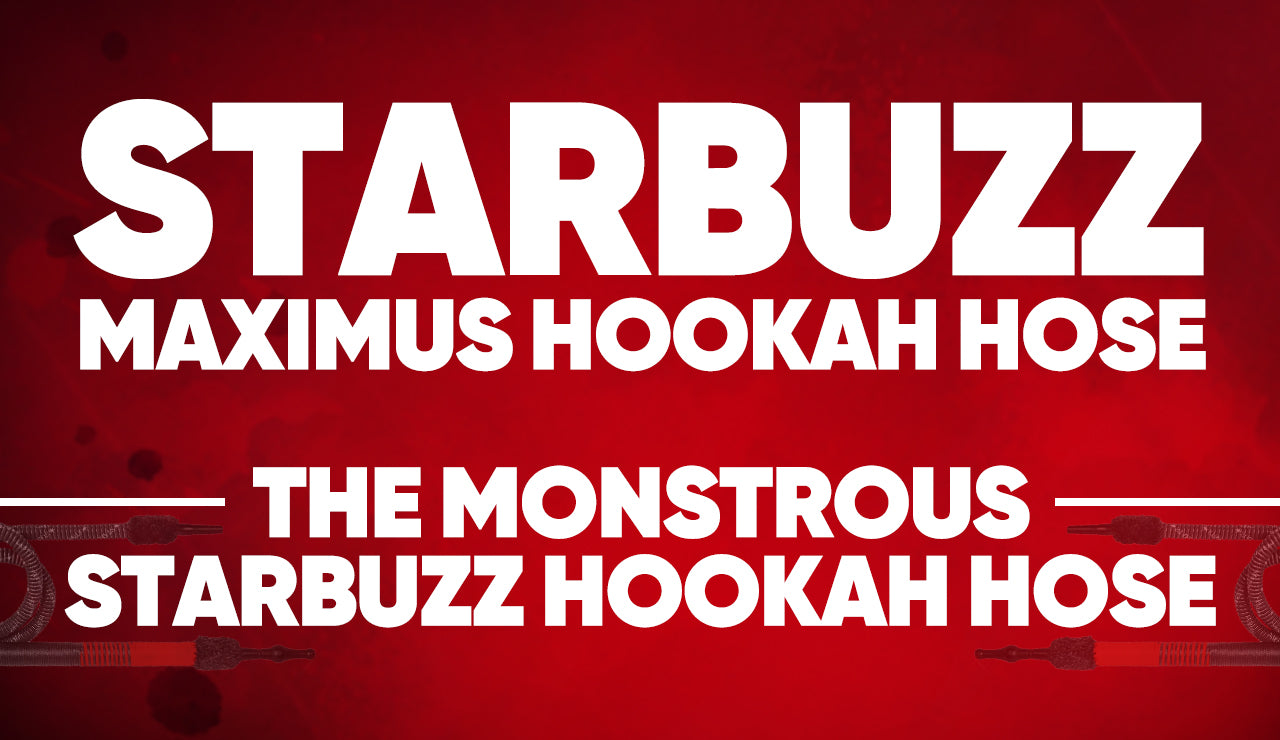 Starbuzz Maximus Hookah Hose: The Monstrous Starbuzz Hookah Hose
Apart from Starbuzz Hookah Tobacco, we are also into crafting some amazing hookahs and hookah accessories that will transform your smoke sessions into an amazing experience. In this week's blog, we will discuss this gigantic Starbuzz hookah hose and highlight all its features for your quick reference. Hope you will find this article informative and helpful so you can choose accordingly.
Starbuzz Maximus Hookah Hose
The hose is named Maximus for all the right reasons. The word 'Maximus' has a Greek origin and means the largest or biggest. Nothing other than 'Maximus' could have been the name of this hookah. This Starbuzz Hookah Hose is counted among the longest hookah hoses in the entire hookah world. In case you are wondering what is so special about it apart from being long, then read till the end. We will address all your queries right here.
Starbuzz Maximus Hookah Hose: Specification
Hookah Hose is not a simple pipe. It plays an important role in your smoke session. Over time, even the hookah hoses have evolved. In ancient days, the traditional hoses were made of real leather and thus were very heavy. Some were even very long. These days, there are countless variants of hookah hoses available that are specially crafted considering smokers' unique needs and preferences.
Among all the variants, Starbuzz Maximus Hookah Hose is a stunning monster hose that is 90-inches long with a 1-inch diameter, which is likely to be 7 feet and 6 inches. That is more than the average height of American men and women. Only a handful of people might be of that height. This hose is a perfect piece for your tall hookah set. Now you can place your hookah setup at the furthest and safest corner of the room and smoke with ease. Maximus will be an ideal hose for a big group smoke session.
Starbuzz Maximus Hookah Hose: Construction
Considering the length, you might think it will be heavy like the long traditional hookah hoses. Surprisingly, it is comparatively very lightweight. This is where we have infused some modern technology. If it was made of leather, then this Starbuzz hose would have been as heavy as a boulder and thus impractical. What makes it more practical and user-friendly is its modest weight. It is a silicone hose wrapped in synthetic leather material that minimizes its weight and improves flexibility and smoke output.
The 21-inch long handle provides you with a sturdy grip. It might be too large, but if you prefer resting the hose after a few pulls or passing it on, then it might be the most convenient feature for you. It comes with a 1-inch wide bore facilitating maximum airflow, which means you will blow some enormous smoke clouds every time you take a puff out of the Starbuzz Maximus Hookah Hose.
Unlike other hookah hoses, you cannot remove the mouthpiece from the handle, and it is glued in firmly. It got a durable construction so you will never have to worry about the mouthpiece popping out while you are smoking. The mouthpiece has a unique design with a slightly flared part at the top. It will comfortably sit right inside your mouth.
Being made of synthetic leather, Starbuzz Maximus Hookah Hose is 100% washable and thus easy-to-clean and maintainable.
Starbuzz Maximus Hookah Hose: Color Options
Starbuzz Maximus Hookah Hose: Hookah-Stem Compatibility
It is a perfect add on for the large Starbuzz Hookah Stem or any other Egyptian Hookah Stem. No more worrying about pulling your hookah over. This hookah hose will add more convenience and smoke outcome to your smoke-time.
Starbuzz Maximus Hookah Hose: User Experience
As compared to the shorted hoses, you will notice some appreciable differences. It would be relatively comfortable to smoke. Also, it offers a quieter and smoother smoke experience. Its massive hookah smoke clouds are something that will go unnoticed. With this long, Starbuzz Hookah Hose now you can easily avoid the regular hookah fails commonest of which is the risk of knocking over hookah. Passing down the smoke turns has never been so convenient and comfortable.
Apart from all these, smokers like the fact that this gigantic hose is completely washable. Once done with the extensive session, give it a thorough cleaning with some lukewarm water and you are ready to pack the next bowl. Last, the extra-wide handle not only facilitates ease of gripping it but also allows optimal airflow and better, and fluffier smoke clouds to blow.
Stop thinking, upgrade your setup with this colossal Starbuzz Maximus Hookah Hose. Order your Maximus right now!