WARNING: This product contains nicotine.
Nicotine is an addictive chemical.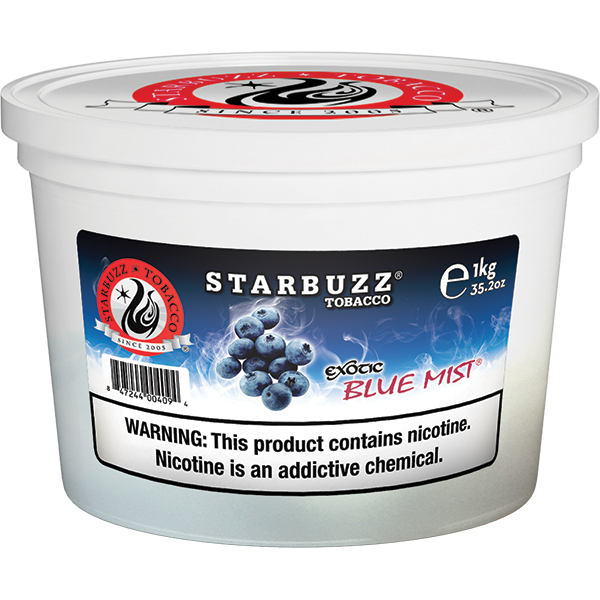 Apple Americano. Rich espresso flavor paired with the sweetness of Candy Apples; it may be an odd combination but packed with intense tastes.

Apple Cinnamon. It is what the name suggests; sweet apples with the tinge of spicy cinnamon. Even the aroma matches the taste wonderfully.

Apple Martini. Don't get deceived by its spinach-like appearance, you will be getting an awesome blend of Granny Smith apple flavors which is less sweet, tangier and even more delicious.

Arabian Coffee. It's a deep soothing blend featuring chocolaty coffee with mint or vanilla.

Banana. It is nice fruity shisha with some strong aroma which tastes better when mixed with other Starbuzz Fruity tobaccos.

Black Grape. Enjoy intense grape flavor combined with traces of anise; this Starbuzz flavor is a perfect balance of spiciness and sweetness.

Blackberry. Another unique flavor is the juicy Starbuzz Blackberry with some earthy fragrance that tastes more like a candy but with some floral tinges.

Blue Mist. it is literally the world's most famous tobacco flavor that feature an unusual blend on blueberry with a certain cooling effect mint but there is neither mint or spearmint in it. 

Read the 

Starbuzz Blue Mist Review

.

Blue Surfer. Like the name, the tobacco is a relaxing sweet combination of some juicy tropical fruits and refreshing cool mint.

Blueberry. The name says it all - it is a simple scrumptious blueberry-flavored tobacco with a subtle touch of sweetness.

Blueberry Grape. Embrace yourself for a heavenly mix of blueberry and grape. Initially, you will find the Blueberry flavor to be dominant but soon you will get the grapes coming up to the front.

Bubble Gum. An ideal tobacco for those who has a knack for sweets, Starbuzz Bubble Gum is aromatic, sweet, savory and gives out some huge smoke clouds.

Candy. Nothing can be more excitingly refreshing that a candy shisha that has the flavors of banana and pineapple fused in it.

Cantaloupe. Presenting you a fine cut, juicy tobacco blend of sweet Cantaloupe that will win you in no time.

Cappuccino. Starbuzz got the perfect tobacco mix for the latte lovers. It is the creamy Starbuzz Cappuccino that produces medium density smoke but sustains long sessions.

Caramel Apple. It has captured the taste of Caramel Apple accurately – the base flavor is apple with some tender overtones of caramel.

Caramel Macchiato. Much like the drink, this Starbuzz tobacco is rich and creamy with the beautiful traces of caramel sweetness.

Cherry. One of the traditional hookah flavors is back but this time it is juicier and hearty – try mixing in some chocolate-flavored shisha for an exotic experience.

Christmas Mix. Another exquisite blend appropriate for a wintery Christmas featuring cinnamon, spices, nutmeg and more.

Chocolate Mint. Beware of this chocolate mint hookah tobacco; it is extremely captivating.

Chocolate Strawberry. Undoubtedly, it is a classic hookah flavor. It feels like you are having a never-ending palate of chocolate-dipped strawberries.

Citrus Mint. Undoubtedly, it is a tropical blend with flavors of sweet, juicy citrus fruits with n minty-cool endnote.

Citrus Mist. A sibling to the Blue Mist, is Citrus Mist. It is a pleasant hookah tobacco with some robust citrusy tastes along with the characteristic cooling effect at the end.

Classic Cola. If you eliminate the fizz factor, then this Starbuzz tobacco is like a bottle of regular cola.

Classic Mojito. When spearmint and lime come together without the menthol coolness, it is the exact flavor you get when you smoke a bowl of Classic Mojito. It is sweeter that the most mint tobacco available in the market.