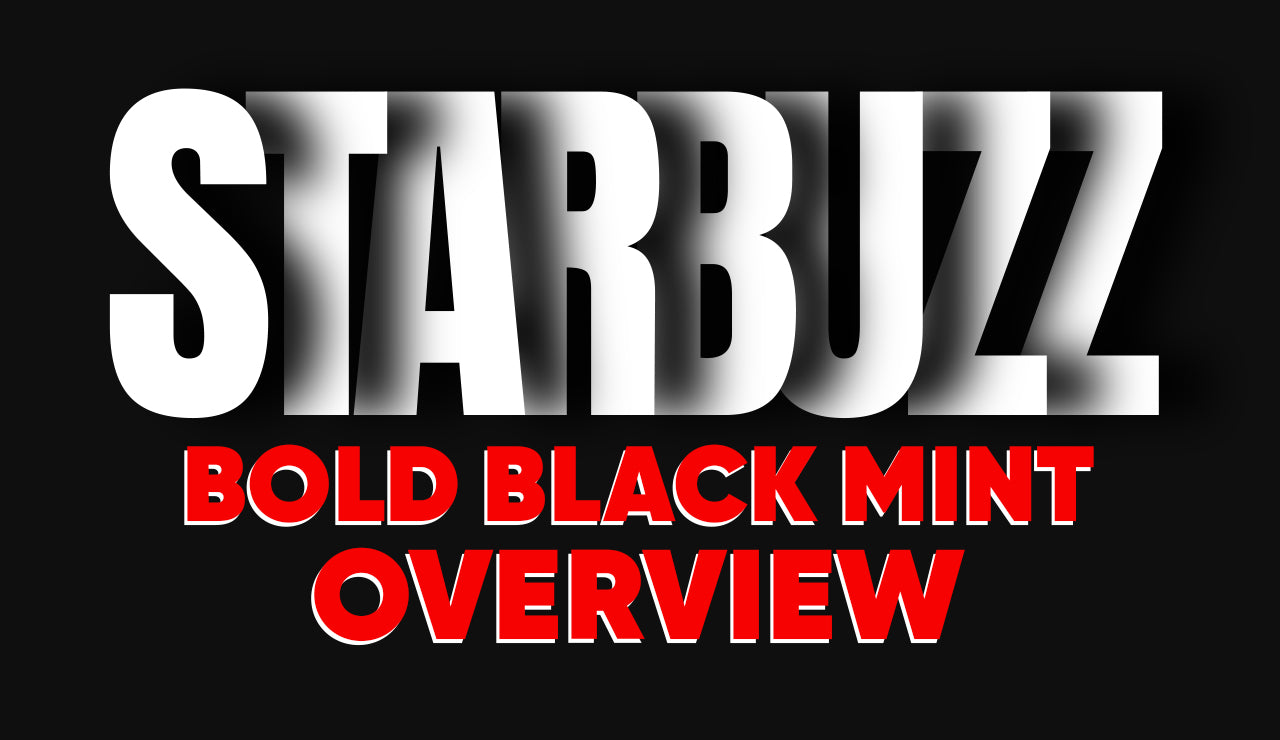 Starbuzz Bold Black Mint Hookah Tobacco Overview
Make some room for the fabulous Starbuzz Bold Black Mint Hookah Tobacco in your shisha collection. For a very long time, we have been working on this flavor fusion. Since its introduction, Bold Mint has become an instant hit among hookah smokers. Today, it is recognized as one of the most popular Starbuzz Bold shisha flavors. It belongs to our Premium Bold hookah shisha line, which is packed with enigmatic spicy flavors with strong robustness. With every drag, you will be on an adventurous shisha ride. Let us now quickly dig deeper into this amazing Starbuzz shisha blend.
Starbuzz Bold Black Mint Hookah Tobacco: Introduction
Black Mint is one of the most recent and estimated additions made to Starbuzz's Bold series of hookah tobacco. The shisha features a medium-cut making it easy to pack in your hookah bowl and the natural tobacco color. Prepared with the washed dark leaves of tobacco, Starbuzz Bold Black Mint Shisha is all about a sultry flavor fusion, minty coolness, and subtle spiciness with an unmissable punch of robustness.
Starbuzz Bold Black Mint Hookah Tobacco: Flavor Profile
Coming to the flavors of Starbuzz Black Mint, it is a simple yet unthinkable amalgamation of mint and Licorice. As you inhale, you will be welcomed with a spurt of refreshingly cool minty flavors. What makes it even more awesome is the subtle black licorice notes you cannot miss as you exhale. The licorice aftertaste is not overwhelming but compliments the mint flavors and adds a delicate sweetness to the overall shisha. Undoubtedly, it is a big hit in the hookah lounges. Even if you are someone who doesn't enjoy Licorice flavor, you will appreciate this shisha blend.
Starbuzz Bold Black Mint Hookah Tobacco: Smoke Outcome
Starbuzz Hookah Tobaccos have never failed any hookah smoke in terms of producing huge fluffy smoke clouds. Starbuzz Bold Black Mint is no exception to that. If you pack your shisha bowl carefully, facilitating proper airflow, and heat your hookah using coconut shell charcoal, you can see the difference it brings in the smoke outcome.  
Starbuzz Bold Black Mint Hookah Tobacco: Longevity and Buzz
Starbuzz Bold Black Mint Hookah Tobacco features a soggy texture because of its copious juice content, ideal for a sprinkle bowl packing style that improves the longevity of the smoke session. A single bowl of Black Mint can easily offer you a smoke session lasting 45 minutes to one hour.
It is a dark leaf shisha tobacco with a higher nicotine content making it more robust than any other Starbuzz line of shishas. However, you can always alter the buzz part by changing the way you pack the bowl. If you pack it light and fluffy, it will give you a considerate but good buzz feel. However, you can densely pack the bowl to make it stronger. Nevertheless, be careful while doing so as packing it dense may clog the pores at the bottom of the bowl, which will reduce the session duration.   
Starbuzz Bold Black Mint Hookah Tobacco: User Experience
Starbuzz Bold Black Mint had already created a buzz among the avid shisha aficionados even before it was launched. Instantly, it became a big hit in the global hookah community and gradually became a household name. When someone likes Licorice or not, Starbuzz Bold Black Mint has successfully wooed everyone with its artful flavor meld. As often seen, smokers score it with 8 to 9 stars out of 10. Even those who are not so fond of Licorice tastes gave it good seven stars. Undoubtedly, Starbuzz Bold Black Mint has succeeded to establish a huge legion of disciples for itself. If you haven't tried it, better not waste time and start packing some into your hookah bowl.
Starbuzz Bold Black Mint Hookah Tobacco: Availability Options
Starbuzz Bold Black Mint Shisha Tobacco comes in packs of 100 grams, 250 grams, and 1 kilo. If this is your first time ordering this flavor, you can go for the 250- or 100-grams' pack. We suggest you familiarize yourself with it before you order in bulk. We are also running some exciting bundle offers where you can pick five or seven of your favorite shisha flavors (or the same flavor) of the same quantity at an exclusive rate. Lastly, enjoy free delivery across the US whenever you order for $150 or more. Hurry up, browse through our entire Starbuzz Tobacco collection, and get started!